Home of the Littleton Crusaders
Celebrating 150 years in 2018!
LHS Alumni Dinner
June 24th, 2017
Catered lunch from Ashley Fekay Miller (class of 1984). Ashley is the owner of The Topic of the Town.
Guest speaker: former LHS Jr. High and High School teacher and current Littleton Historical Society Curator Richard Alberini.
LHS Alumni Dinner info & registration form [571 KB pdf]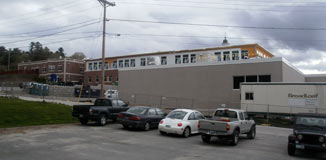 LHS changes its look again.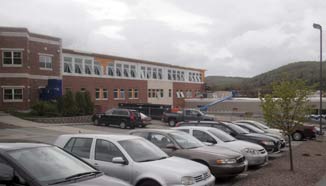 Join the Littleton NH High School Alumni Group on Facebook
---

History
Littleton High School was originally built in 1868 but was replaced by a brick building in 1925. The brick building was destroyed by fire in 1954 and was rebuilt in 1956. This is the building we can see today in its current location on School Street., with its grand columns in front and mighty cupola on its top.
Due to the climbing school population, portable classrooms were put into place on the front lawn prior to the opening of school in the fall of 1969. Though these classrooms served the purpose, a lot of people felt that they took away from the school's beautiful facade.
As time moved on. Profile Regional High School was built in nearby Bethlehem and we lost our tuition students. The curriculum was expanded at LHS in keeping with the times....and space was still a problem. Following the death of Governor Hugh J. Gallen, ground was broken to build an addition to LHS, which would be called The Hugh J. Gallen Vocational Wing... in his honor & memory. Today the vocational wing hosts a variety of vocational courses both to Littleton students and other local high schools.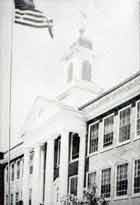 In 2002, Littleton townspeople again moved to address the spacial issues and the aging accommodations of Littleton High School (LHS). With a 6 million dollar commitment from the townspeople, LHS underwent a remodeling and expansion that drastically altered its shape in ways not seen since the school was rebuilt in 1956. Graduates who walk through its hallways now will find a very different building from what they remember. The main entrance was moved from School Street to Oak Hill Avenue. A new cafeteria was added along with new classrooms and hallways.
Littleton High School is well positioned to serve its community and students into the new century and we, the members of the LHS Alumni association, are proud to still be a part of it as well.
Littleton School District Web Site
Littleton Area Chamber of Commerce